Donovan Rojas
From LEO Ratings
leoratings.com is celebrating our 1-year anniversary of researching incidents involving law enforcement officers in the U.S. We've reported on 277 incidents involving 338 officers from 195 agencies in 42 states. Please help us by following, liking, commenting, retweeting/sharing, and telling a friend to spread the word!
Service Record
Incident Reports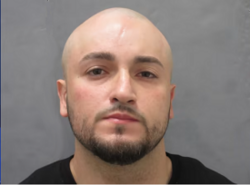 2022 DUI
On June 12, 2022, Rojas was off-duty while speeding in an unmarked department vehicle. A Monroe County Sheriff Deputy tried to stop Rojas, but he led them on a high-speed chase before eventually stopping.[3]
The Sheriff's Office reported that Rojas had difficulty standing and appeared to be intoxicated.[4]
Response Timeline
Rojas was arrested and charged with DUI, fleeing, and eluding.[3]
Rojas was supended without pay.[3]
LEO Ratings
References